Vancouver Air Adventure Deals & Discounts
Take to the skies when you're seeking a thrill on your next vacation. Soar into Vancouver, British Columbia air adventure deals right here with Expedia to receive the best rates on fun in the clouds. Whether you're looking to take the plunge from great heights or brave a bird's eye of the city, let us help you safely land the best discounts around. Lift off the ground on your next trip and book Vancouver air adventures right here today.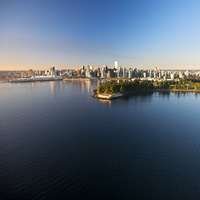 Ascend to the skies above Vancouver and witness the extent of the sprawling metropolis. Take a seaplane ride above the sights and attractions and beauty of the Pacific Northwest.
Explore Vancouver's most popular sites—including Gastown, Stanley Park, and Granville Island—as you make your way to the Cleveland Dam and the Capilano Suspension Bridge, located Northshore Rainforest.
About Air Adventures in Vancouver
Here at Expedia, we offer a variety of air adventures. While not every city offers every type of these air adventures, we introduce you to the following examples of popular activities that may be offered in the city you're exploring. From adrenaline-pumping activities to the more calm and tame tours, there are plenty of ways to make a big impression on your next getaway.


Parasailing
Sail over the land or water from high in the air on your next parasailing adventure. You'll float through the sky as a boat tows your canopy. Some parasails even have enough room for two or three passengers to take to the skies at one time.


Zip lining
Let gravity be in charge when you race down a zip line course. These cable lines invite you to strap into a harness and speed through the inclined courses, some of which offer different speeds and lengths depending on your preferences. Don't close your eyes because you just may miss some one-of-kind views of the scenery on the way down.


Helicopter Tour
For those who would rather stay in the comfort of an enclosure while viewing the city from above, consider a helicopter tour. This unique form of transportation is an unrivaled way to witness awe-inspiring views from the co-pilot seat. Your experienced heli aviator will navigate the skies while giving you the insider knowledge of the destinations below.


Hot Air Balloon
Soar up, up, and away in a hot air balloon during your getaway. This is one exciting option for touring the city, sans the feeling of your stomach in your mouth. Hot air balloons offer a tranquil ride through the sky at a comfortable speed and height.