Tours & Sightseeing Deals in Beijing
Put away the guide book and instead let a tour guide lead the way when you join one of the Beijing, China tours. These outings let you experience and embrace the city without having your nose buried in a map. Here at Expedia, we present the hottest deals on these Beijing guided sightseeing activities around town so you can get to know the city from the perspective of an expert, without breaking the bank.
Wander the Temple of Heaven Park, eat a traditional Chinese lunch at a local eatery, and visit the famed Tiananmen Square. Admire Beijing atop a pagoda at Jingshan Park, and set foot in an ancient "city" that was closed to most of the world for 500 years, the Forbidden City.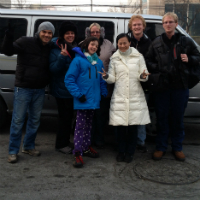 Hike along one of the Great Wonders of the world, the Great Wall of China. Make your way to several watchtowers along the path and admire the lush surrounding scenery. Stop for an authentic Chinese lunch and a relaxing reflexology foot massage on your way back to Beijing.
Tour through Beijing on a bicycle and see some of the city's best kept secrets. Stop at a local market for fresh produce, enjoy lunch in a traditional courtyard, and learn to play mahjong from some friendly locals.
About Beijing Tours & Sightseeing
Embarking on a tour is a fantastic way to receive all the insider knowledge. Whether you want find out about the local history or discover the best scenic views of nature, a sightseeing tour is right up your alley. While some cities may not offer every type of the following tours, these are just a few popular ones available in many destinations.


Sunset Tours
From the low lighting to the colorful skies, there's something undeniably romantic about when then sun starts to set. On your next getaway, take a sunset tour to experience the lay of the land as the sun melts into the horizon.


Segway Tours
Hop on two wheels and zip around the city. Segway tours offer a unique way of exploring. Before you speed off in the distance though, your tour guide will provide a brief lesson on how to properly and safely ride your very own Segway.


Bus Tours
Bus tours let you put up your feet as the tour guide points out all the landmarks and sites along the way. Sit back and relax while the bus rides along the historic streets or the most scenic destinations. Some tours even provide double-decker buses or open-roof rides.