Stadium & Sports Tour Deals in Barcelona
Get to know the city with a little friendly competition. While you're in town, attend one of the Barcelona, Spain sporting events to receive insight into the city's sports culture. Cheer on the home team or root for the enemy. Here at Expedia, we're committed to helping you find competitive rates on Barcelona sport tours and games, so you can spend more time cheerleading and less time worrying about your budget.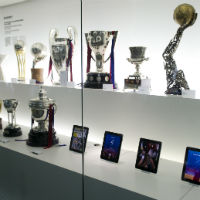 The players might have left, but the atmosphere of adrenaline and anticipation lingers on! Get behind-the-scenes access to the dressing rooms and imagine the screaming fans as you head down the tunnel to the pitch. You can also visit the club's museum and see the history of sport spring to life!
About Barcelona Sporting Events & Stadium Tours
Root, root, root for the home team. On your next trip, let Expedia help you score the best rates on your sports activities. While not all cities have professional sports or stadium tours, the following are just a few popular sporting events available in some areas.


Games
Some cities simply go crazy for their sports teams. Grab some peanuts, paint your face the team colors, and cheer for victory to get a feel for the sport that means so much to the town. Whether it's soccer goals or basketball hoops, feel the energy rise in the crowd as the scoreboard lights up with points.


Stadium Tours
When a team makes sports history, visitors love to go behind the scenes of where it all began. Sign up for a stadium tour to get a glimpse at the locker rooms, dug outs, and famous spots at these indoor and outdoor arenas.


Racecar Events
Listen to the engines rev up at the racetrack. Watch as the race car drivers speed around the course and the pit crew scramble to maintenance the vehicles. This fast-paced event is certain to fulfill your need for speed.