Event & Show Deals in Barcelona
Enjoy a special occasion watching live, performing arts stage events, concerts, and comedy shows. Whether you're looking to listen to live music or split your sides with laughter, look no further than Expedia for shows in Barcelona, Spain. We offer the hottest rates on the best seats in the house at the Barcelona events, theaters, and concerts.
Located in the famous "Las Ramblas", Tablao Cordobes is renowned for their distinguished flamenco dancers as well as the decoration, inspired in Nasrid Art –last Islamic kingdom in Western Europe- it is considered the most important Flamenco venue in Barcelona.
Company: Tablao de Carmen
Duration: Dinner and show: Approximately 1 hour 45 minutesShow: Approximately 1 hour
Rhythm, passion, and movement come together to create a mesmerising flamenco performance at the Tablao de Carmen. Its prestigious cuadro—or troupe—presents a vibrant show, oozing Latin style and spirit. Choose between a show only option, a tapas and show option, and a four-course dinner and show option.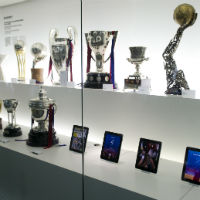 The players might have left, but the atmosphere of adrenaline and anticipation lingers on! Get behind-the-scenes access to the dressing rooms and imagine the screaming fans as you head down the tunnel to the pitch. You can also visit the club's museum and see the history of sport spring to life!
About Barcelona Theatres & Concerts
Make this trip a memorable one with great seats to concerts, theatrical plays, or comedy shows of your choice. While not every city offers every type of event and show, the following are just a few that are popular in certain cities.


Live Concerts
Treat yourself to the sound and sights of the city's performing arts during your travels. From big brass bands to chamber orchestras, your ears and pocketbook will thank you when you score affordable tickets to see concerts while you're in town.


Plays & Performing Arts
Turn up the drama on your next getaway when you reserve seats to see a play. Watch as the stage comes alive with actors, actresses, and props. Whether it's a drama or comedy, seeing a play is a great way to enjoy both local and national touring talent. Don't forget about the style and elegance of live stage dance performances as well.


Comedy Shows
Get ready to laugh out loud. A comedy show is sure to tickle your funny bone. Stand-up comedy will give you belly-aching laughter while improv just may make you snort. Crack up, giggle, chuckle, and howl during your romp in the city.